Ready To Buy A New Home?
Buying a home is a big step, and we're here to help you with the hard stuff. In order to find you the right home, we need some information from you. Below is a form that will help us develop a plan for finding a home that meets your needs and fits within your budget. We know it is a lot of information, but it truly goes a long way towards making the whole process successful. So, grab a cup of coffee and take your time providing the information below!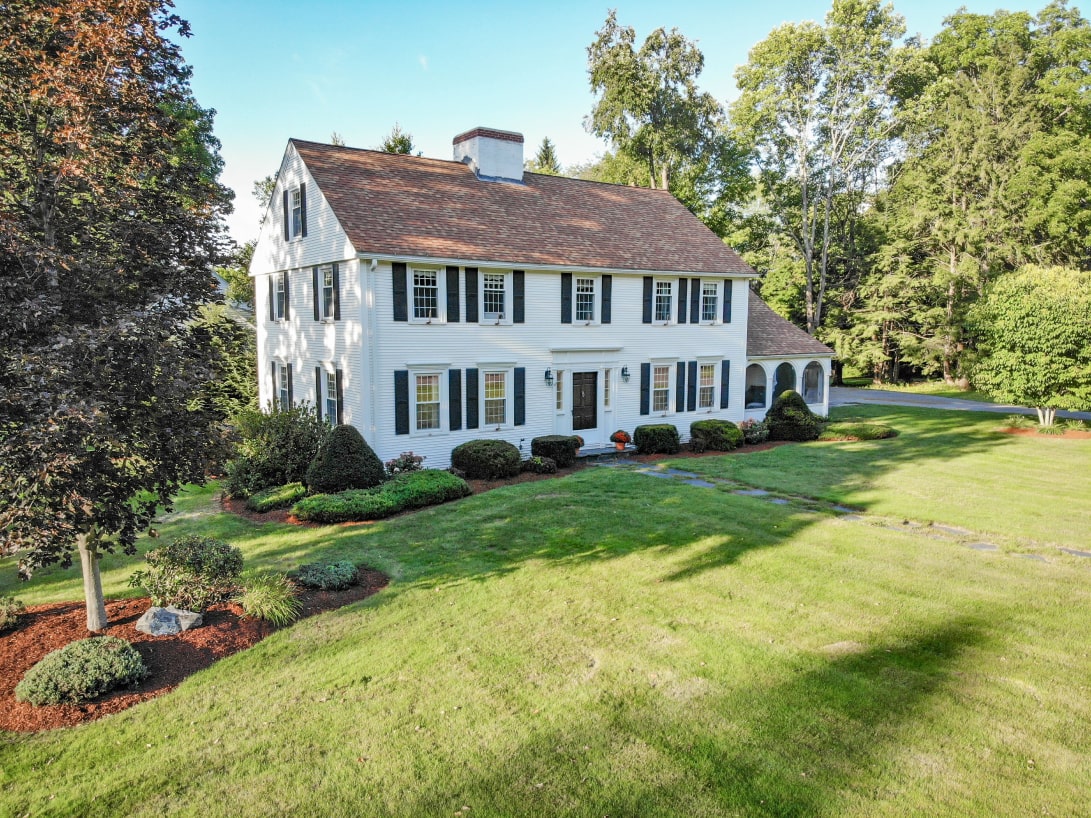 Testimonials
" So this was our first home purchase and honestly I was kind of worried because I have heard a lot of People talking about Disasters with their Realtors. My Fiancé Found Kristen and I am so glad she did. Kristen made this process go much smoother than I had anticipated. All questions we had she either had the answer or dug into getting the answers. Kristen was very quick to respond to anything we needed. "
- Sam Mercier
" Anyone purchasing or selling a home should use Sara. She is a true professional in real estate, as well as an amazing genuine person. The experience that she provides her clients going above and beyond for them is extraordinary. She is truly there with you every step of the way, doing all that she can to make everything come together. And even after closing, she continues to find ways to reach out and make you feel special. So do yourself a favor and call Sara Lyman for all your real estate needs. You cannot find the value that she brings to the table anywhere else. "
- Amanda Landry
" Positive: Professionalism, Quality, Responsiveness, Value Sara was amazing throughout the entire home buying process start to finish. Excellent communication, negotiations, and follow through between the sellers and myself. I highly recommend Sara Lyman "
- Dan Noel Investor Google
" "We recently had the pleasure of working with April with the selling of our property. The entire process went so smooth with literally no 'bumps'. April handled everything professionally and stress-free. Her communication was top notch and we thank her so much. We could not have asked for a better experience. Thank you, April!!" "
- Laura Jay
" Best Realtor around! Jean has been my realtor for years selling two properties for me in record time. Always goes above and beyond to get whatever needs to be done, to make the transaction easy for me. Very professional, detail oriented, and gets the job done. I would never use anyone but Jean! Verified by RateMyAgent "
- Laura Frost
" To say Olivia helped me find the home of my dreams is the understatement of the year! She went above and beyond throughout the entirely stressful and ever changing market out there nowadays. She was there comforting me when offers fell through and coaching me through all the legalities of every rule and regulation. I may be a little biased being her cousin but she's honestly the most hardworking professional to make it through this crazy housing market with. I just couldn't think of a better Realtor that devotes their time and energy to finding the perfect home for each one of her clients than Olivia! "
- Laura C.
" "Jean Rubin, Hometown realtors, is a top notch, full service realtor, going above and beyond to help us find a home of our dreams! She helped us purchase our very first home in Athol, and we found her expertise invaluable! She is very knowledgeable, honest, straight forward, reliable, not in the least bit pushy and is a pleasure to work with. Jean combined her understanding of our desired home features with her knowledge of the towns we were looking into, the neighborhoods, schools and acreage. She stuck by our side as we viewed many homes. Jean had a lot of knowledge on each home we looked at pointing out things we did and did not see. Once we found a property that we wanted to put an offer on, Jean diligently helped us review the property's disclosures, made sure we knew what the property did and did not have to offer, and skillfully negotiated the contract on our behalf. Our offer ended up getting accepted and we closed within an expected time. During the whole process, we were constantly impressed by Jean's responsiveness, honesty, attention to details, and thoroughness. She remained accessible (24 hours!) and continuously provided support for us after we moved in. We are confident that we can always reach out to Jean for help, and would recommend her to anyone looking to purchase a home!" "
- Lauren Goodrich
" "Honestly can't say enough about April Cover and our experience purchasing our first home. Being first time home buyers we had a lot of questions and a lot to learn. April went the extra mile and walked us through the process start to finish, answering any and all questions we had. She was honest and transparent with us, even when it wasn't necessarily something we wanted to hear. I can't thank April enough for all her help during a crazy, stressful process! Highly recommend ☺️" "
- Steph Miller
" "I would recommend April Cover in a heartbeat she goes above and beyond for any of her clients it was really great having her by our side for our home buying journey ❤️" "
- Kailey Hanley
" The service was impeccable. After a very rapid response with matching us with an agent, we were teamed up with the ever amazing Kelly LaGrassa. Her enthusiasm was inspiring. Right from the get-go she was finding listings that fit our vision for the ideal home. And if a home ever went higher than we were comfortable spending, she was always understanding and encouraging. Kelly was always working to get the job done. She always took the initiative and kept digging for us. Even on our closing day she was more than eager to assist us with securing a moving truck. I highly recommend Kelly LaGrassa and the Hometown Realtors team. "
- Denis
" Brian Schindler 4 days ago★★★★★ Very professional and honest. Excellent communication throughout the whole process. Would highly recommend. "
- Brian Schindler
" Olivia was my parents' agent when they sold their home over a year ago. She was able to get an offer above asking price after a few months of no interest with another real estate company. More recently, she helped us sell our 2 houses in order for us to purchase our dream home. (3 transactions finalized all within a month of each other). She is responsive, knowledgeable and helped us every step of the way. Through some ups and downs, she helped us navigate the selling and buying process with ease. I highly recommend Olivia as your future real estate agent. She will work to get you offers on your home and help you into your dream home! "
- Emily W.
" My significant other and I had been searching for the right team to help us purchase our first home. Kristen was highly recommended by our friends and family. I remember the day Kristen called me - I was hiking up a mountain after work. We talked on the phone for almost an hour as if we were friends from years ago. I had zero knowledge on the home buying process and she patiently answered all of my questions. She treated my family as if they were her own. She was eager to get us into a home before the holidays, continuously doing her research, finding beautiful homes for us to tour, and always assuring us that the right one would come along. Eventually, the right house came along and she made it a wonderful experience. She is an incredible woman who has put her heart into what she's doing. I will forever recommend any friends and family to Kristen. "
- Courtney Longo
" Jean was an absolutely incredible realtor and an overall amazing person to get to know. Even through very stressful, unpredictable issues out of our control, she went ABOVE and BEYOND her duties as a realtor from the moment we met her and even after we bought our home. We didn't know where to start, but Jean walked us through every step. She is fierce, dedicated to her clients and motivated! Jean doesn't try and just sell houses. She helps you find a home. Jean was open and honest when entering homes with us. She didn't try and upsell a home she didn't believe was a good fit for us. Thank you so much Jean. "
- Courtney Tuttle
" Kelly is awesome! She went above and beyond to make sure everything went smoothly for me and my family with selling our home of 20yrs and then buying our new home to love and grow and make many more memories. There was a lot of twist and turns with the selling of our old home and buying our new home. But Kelly got us through it and I wouldn't have wanted anyone else by our side to help us along the way ❤ "
- Sherri
" Sara has been my real estate agent for both buying and selling. She is detail oriented, listens and understands your needs, and treats every client like they are family. I have referred Sara to my closest friends, who also had amazing experiences. She is also incredibly involved in local charities and supports local business. Did I mention she is also just a really nice person? I highly recommend using Sara if you want a real estate expert who will be transparent, understand what you need, and guide you in the right direction. "
- Kirby Lecy
" If you are looking for the perfect home at the right price Kristen sits above all in finding and/or creating that home for you. I had the absolute honor of working with Kristen and had the most amazing brand new house that I could ever imagine, not to mention in a great location as well! I promise you that if you are looking for a beautiful home in the Athol area for a reasonable price, Kristen will not let you down. I can not be any more thankful for what her and everyone at Dodge Contracting put together for my new home, and i would not want it any other way! "
- Cody Ledger
" walter herk 1 week ago★★★★★ She has always been great to work with and very professional "
- Walter Herk
" My wife and I would like to thank Olivia for all your help in buying our first home! We would highly recommend her to anyone looking to buy their forever home. "
- Shawn M.
" I reached out to Sara 9 years ago, knowing she could help me find the perfect house. She did not disappoint! Her experience, attention to detail, and ability to translate my dreams into locating my dream house continues to provide me joy. She is a spectacular Realtor. "
- Marybeth Thompson Google
" My boyfriend and I worked with Olivia when we bought our first home in the summer of 2020. She was always personable, always on time for every appointment, and gave us practical and helpful advice that eventually got us into our dream home. Buying a home during the height of Covid certainly presented its challenges, but Olivia made the process as smooth and efficient as possible. Highly recommend Olivia! "
- Rachel S.
" I've been working with Sara in the real estate industry for over 18 years. She is a top notch professional who truly understands changing markets, negotiation skills, and always goes above and beyond for her clients. She is 100% someone I would trust personally and professionally to help me navigate the home search and buying process. "
- Brian Hunton Google
" Kristen was very helpful throughout the search for a home, always available when we needed, and knew exactly what we were looking for during our time together. Kristen is the most friendly, which was a plus during stressful moments! Would highly recommend! "
- James Carr
" Positive: Professionalism, Quality, Responsiveness If you are looking to buy or sell a home, I highly recommend Sara Lyman! When we were looking to sell our home a few years ago we reached out to Sara and were thrilled that we did. Our situation was unique, our home was considered to be in a flood zone, which was in our mind ridiculous and cost us thousands of dollars in insurance premiums every year. We were concerned that our house wouldn't sell once potential buyers were made aware of the outrageous insurance premiums that would come along with owning that home. Sara was very diligent; she did the research and when all was said and done, she had our home reclassified so the new buyers would NOT have to pay for flood insurance. We were absolutely amazed!! So, when we came across a home we wanted to look at in October there was no question who we would call. Without a doubt it would be Sara! We loved the house and she helped us to quickly get pre-approved and provided several options to make sure our offer was aggressive enough to be considered and ultimately accepted. We are thrilled that in a few short weeks we will be moving into our new home and selling our current home all thanks so the best realtor in our area!! Thank you, Sara…we truly appreciate all that you do for your clients! "
- Don & Pam Knapp
" "This market can be difficult....... we were selling and April walked us entirely through the process.... the ups, the downs and kept me in check. She's all about her client's BEST INTEREST!!! Best and only one I've ever worked with ........ we were the first sale of her career and 10yrs later sold through her what an experience.....truly amazing" "
- Al Packard
" "April has gone over and above normal to help with the sale of my family home. We are grateful for all the hard work and especially for how much she truly cares. Definitely recommend. Thank you so much April!!" "
- Kristi Dave
" Stress free service and works hard for her buyer! Jean made the whole selling process easy and stress-free. She helped me with whatever I needed and made sure my interests were valued by the buyer. I highly recommend her to anyone looking for a no nonsense, protective realtor that wants to get you what you deserve. "
- Jessica Mahoney
" I have had the pleasure of working with Kelly on the original purchase of my first home and then the sale of my house this year. Kelly is super knowledgeable, responsive and makes the process stress free. She is 100% dedicated to your needs and goes above and beyond to help guide you through all aspects of the home buying/selling process. I can't say enough about her professionalism and caring for her clients. If you're looking for someone to help with your real estate needs look no further. Kelly is one of the best out there. "
- Tania
" Well I'm going to start with how impressed I am on the way that Jean can keep so calm and then keep me calm and how she goes over the top to answer every question and every worry or concern I had she would always answer me if she didn't know the answer she would find out the answer we felt like we were the only client she had because she spent so much time calming us down and putting out fires so to speak She had knowledge coming out her ears about real estate at times I felt like I couldn't breathe she was right there too calm me down with answers to all my questions We will use her again I even referred her to my brother now she is his agent as well This woman deserves a metal for all her hard work and compassion she legit cares about her clients she not one time left an unanswered question or left us out in left field constant contact just a wonderful person and exceptional professional real estate agent!! I could go on and on about this woman she is def agent of the year no doubt in my mind! "
- Terry MacInerney
" Olivia is a Realtor that truly cares and goes the extra mile for her clients. She plays an active role in transaction from the beginning to end making sure that everything is happening the way it should and in a timely manner. I've worked with her on multiple transactions and she consistently is a pleasure to work with. "
- Amanda L.
" "I gave Jean a tight budget and an extravagant taste in houses and she checked off both boxes" "
- Peter Holske
" Positive: Professionalism Sara is an amazing realtor! she kind, and she helps you through the process of selling or buying a home, If you have and questions she is always there to answer them. she really knows her houses. When things start to go south she us right there to turn everything around! love her! "
- Laura Hutt Google
" "I reached out to April Cover on 4/27/2020 as I was just starting to interview realtors to assist me with purchasing my first home. As a first time home buyer, I was nervous and full of questions and really wanted to work with someone who could match my energy and "go-getter" attitude. April responded to my message within minutes and we were on the phone chatting within the hour. I decided to hire April because she was straight forward and honest from the start. She explained that she will always have my best interest at heart and will never walk through a property with me and only point out the "positives". She talked a lot about how important it is to understand the "negatives" when purchasing a home. With each home we looked at I was more and more impressed with her honesty. From early morning phone calls over coffee to late night texts while laying in bed, April ALWAYS made time for me. She listened to my questions and concerns and I felt like she truly understood what my goals were and she was determined to get me there. In addition to being a fantastic and reliable realtor, April was extremely knowledgeable about the Mortgage Lending process and made sure I knew all of the important questions to ask my lender. In less than 30 days, April showed me multiple properties until 5/16/2020 when we both fell in love with what is now my forever home. She had an offer typed up and sent to the selling agent within an hour of my decision to offer. Once the offer was accepted, April checked in with me several times throughout the following weeks and worked diligently with the selling agent to speed up the closing date. Her work didn't end there....after the closing on 6/23/2020, April continued to check in with me up through moving day!! I am beyond grateful for the integrity, dedication, and professionalism. I would highly recommend April to anyone looking to buy or sell a home. Not only was she the absolute best realtor with motivation and drive, she was a hard working woman with a heart of gold who I have grown to love and respect. Give April a call for any/all of your home buying/selling needs. You will not be disappointed! Thank you for everything, April!" "
- Alissa Leger
" ""April Cover is absolutely amazing! Professional, punctual, and outstanding communication! Sold my house for 10K over asking! Would definitely use her again!" "
- Kimberly Redman-Fuller
" Olivia was absolutely amazing throughout our entire purchase and, in my opinion, went above and beyond to make sure we got the perfect home! I couldn't possibly be happier. I recommend her to anyone I meet that needs a Realtor. "
- Lilly B.
" Jean did a great job understanding our needs and worked extremely hard to meet and exceed those expectations. She is very knowledgeable of the home sale process and made sure things went smoothly. "
- Kevin Mader
" "April Cover is the BEST, all the work that she put in promoting our house, even before she listed it, paid off, we got a great offer and had a signed contract within 3 days!!! April Cover has the best work ethics, honesty, and integrity. You can't go wrong with her on your side, my husband and I HIGHLY recommend April Cover" "
- Vicky Turek
" "April Cover sold my home and helped me purchase another home. April is dedicated, hardworking and honest. I highly recommend her to be your agent." "
- Randy LeCuyer
" When we were ready to buy our first house we were immensely lucky to have Kelly Lagrassa from Hometown realtor as our realtor. She took her years of expertise and really dedicated herself to making sure we had the best experience. Her profound patience and willingness to walk us through all parts of the process truly an asset. Kelly didn't push us, she kept finding places for us to view until it was the right fit. Kelly helped us difficult first time buyers lock in our home. "
- Lorelei
" Kristen helped my friend and I find a fantastic new home - her professionalism, integrity, and ability to remain calm in the face of uncertainty is second-to-none - we had very positive interactions with other members of this agency as well - they truly care and are THE BEST! "
- Sally Solomita
" Sara and her team at Hometown Realtors are truly above the rest. Sara has been my realtor on multiple sales now and I truly wouldn't consider doing business with someone else. She is always available to answer a phone call, text message and email whenever she is needed (and I'm needy). Her knowledge keeps you comfortable and at ease throughout the process while the communication keeps you up to date and always aware as to what is the next step. Sara is the best of the best and I appreciate all of her help and without a doubt will use her services again when I look for my next home! "
- Ryan Mailloux Seller & Buyer Google
" I have had the pleasure of working with Olivia on multiple occasions and have never been disappointed. She always goes above and beyond for her clients and her knowledge of the real estate market is unmatched. I would recommend Olivia to anyone looking to buy or sell their home. "
- Russ V.
" Kristen stuck by us with infinite patience and grace while we made our way through the real estate market - we found the house we were looking for thanks to her and her amazing professionalism and knowledge. Kristen is everything we could have hoped for in a real estate agent! "
- Mary Fusco
" Buying our house with Sara Lyman was such a great experience. She was patient with us seeing many houses until we found the perfect one. She encouraged us to look at a house that didn't look perfect for us on paper which turned out to be our forever home. She is amazing and exceptional at her job. "
- Shala & Al Rousseau Google
" "I cannot speak highly enough of my experience with April, and how seamless she made my selling experience. As a first-time seller, I really had no idea what to expect and April was there to patiently guide me through every step along the way. Selling a home can be overwhelming for the seller, but April's no-nonsense, get-it-done attitude combined with her experience, person-ability, and professionalism almost immediately put my mind at ease. April goes above and beyond for her clients… she knows her stuff, and I will be certain to recommend her to anyone looking for a top-notch realtor!" "
- Susan Brenzel Varney
" I would highly recommend Sara Lyman to anyone who is ready to get serious about buying/ selling their home. When my mom was downsizing from our family house she needed help so she called a realtor. Very nice however things just didn't fit right. After some time (my mom gives everyone a fair chance) she got a referral to call Sara Lyman. WOAH! Instant difference! Sara knows her stuff! Her knowledge and experience was what my mom really needed for both selling and house hunting. Sara was always quick with responding to all parties. She was clear with information and always made sure my mom fully understood and saw all aspects. It gave a lot of comfort and confidence in making the right decisions. Sara always had a positive and focused energy that was refreshing and greatly needed during the tedious process. Since then she has helped me make my first real estate purchase that I couldn't be happier with! Sara is a true genuine person and is amazing at her at her job! "
- Janine Painchaud Google
" Kelly, my buyer agent, proud herself beyond reproach. She exemplified herself not only as my buyer agent, but recommended Total Mortgage personnel (Katie) who took me through the loan section of the process with ease and precision. Kelly also went out of her way to recommend inspection personnel who did a wonderful job and inspecting the house with detailed work ethics. What melt my heart was when I was hit with COVID 19 in Ghana and was expected to close the house on September1, but couldn't travel due to the positive COVID 19 test, Kelly facilitated with the team and Attorneys to ensure an extension to September 8th when I recovered within 5 days and returned safely home to the US. She checked up on me on daily basis on my health, which is completely outside the bounds of her profession. She was human exhibited her human nature in diverse ways during and after the deal was closed. I strongly recommend Kelly of Hometown Mortgage in Athol as an extraordinary buyer agent to any potential and existing home buyers out there. You will not regret, you engaged Kellys services. "
- Samuel
" Positive: Professionalism, Responsiveness Sara is truly amazing to work with! VERY responsive throughout the entire process (even when she was on a family vacation and I told her not to reply until she got back ?) and made sure that everything stayed on track. I would absolutely recommend her to anyone looking to buy or sell a house. She made selling our home and buying our new home seem easy as though it didn't take any work on her part. That's a feat considering everything she did have to do. "
- Shane Quinn Seller & Buyer Orange MA
" "Not only would recommend Hometown Realtors but you should ask for April Cover. She is great. So many happy clients" "
- Jeanne Comee Evans
" Alicia DiRienzo 1 week ago★★★★★ Kara is absolutely wonderful! If I ever decide to sell and buy again I will definitely use her as a realtor again. "
- Alicia DiRienzo
" Positive: Professionalism, Quality, Responsiveness Sara is a phenomenal realtor and really went the distance for my parents when they decided to sell their house in Orange. She was there for my family at every step of the sales process and helped us secure an offer far above our asking price. I can't recommend her highly enough. "
- Charles Schmieg Google Home Seller
" "April was amazing from start to finish. She listened to all of our needs and wants and she was open and honest about the process. She was always available to answer questions, and we had a lot of them! There were times when we were hoping for a different answer but she was always honest even when it was bad news. She genuinely wanted to make sure we were not surprised or getting into a bad situation. She is very knowledgeable, I'm pretty sure she even predicted the exact price the house would appraise at just by driving by the home. She knows her stuff. When it came time to start closing, she gave us a list of to-do's and constantly checked to make sure we were all set. I don't know what we would have done without her. We truly appreciate her making the process so smooth." "
- Cassparina Hayes Breen
" Sara has helped us buy and sell. She communicated with us throughout the entire process. Sara is professional, and very knowledgeable of the market. She is easy, fun to work with, and love her personality. I love that we can still call her anytime with any property questions, and she responds immediately. Highly recommend you give her a call. "
- John & Noemi Robertson Google
" Terri Leadbetter 1 week ago★★★★★ Kara is a very high level realtor as each and every potential or new client has her utmost attention. Kara gives you 100% of her Realtor knowledge and services. I would recommend her for her integrity and willingness as representing a buyer or seller! "
- Terri Leadbetter
" Positive: Professionalism, Responsiveness It was a pleasure working with Sara Lyman and would recommend her to anyone looking to buy or sell a property in the Central Mass area. Sara priced our home competitively and aggressively marketed our home to bring in buyers. She is responsive- replying to emails quickly. Hardworking is an understatement- Sara took calls on vacation, on weekends, and even on her daughter's birthday! We strongly feel that if anyone other than Sara represented us, we would not have received the best offer. Thank you Sara! "
- Shelly & Lee Rowe
" Steve Richard 1 week ago★★★★★ Kara is very professional and helpful. She has gone above and beyond many times for me and has lead me and my family to a great place to live. I would 100% recommend her to anyone that is looking to find there forever home. "
- Steve Richard
" Michelle LeBlanc 7 days ago★★★★★ Kara goes above and beyond at all times. She responds in a very timely manner. Answers all of your questions. Explains everything thoroughly and is very personable. Highly recommended. "
- Michelle LeBlanc
" My wife and I looked at several houses with Olivia as we tried to find a house that was a good fit for our family. Olivia was very helpful and patient with us during these trying times. We cannot recommend her enough. "
- Chris G.
" Kristen Dodge assisted my husband and I with the sale of our home as well as the purchase of a new home. Her assistance had taken place during the onset of the COVID 19 epidemic, February early March of 2020. As one could imagine, this period of time was extremely concerning and confusing as new policies and local town restrictions were mandated. New protocols were aggressively followed and our home was sold VERY quickly. Kristen was made herself readably to us, as she was prompt, knowledgeable and most professional. If you are considering selling or purchasing a home she'll be there every step of the way. "
- Dawn Park
" "I can't say enough about the experience with Jean Rubin, would recommend her to anybody in the area that want to sell or buy. Jean Rubin had a marketing plan from the first day I met with her. She came well prepared." "
- Rose Kauppinen
" I have worked with several Realtors and have to say that Kristen Dodge is a stand-out! She is professional, responsive and fun to work with, making the home buying process much more enjoyable! Kristen, I hope you read this and know that you are appreciated...until next time! "
- Jane D
" "April Cover is the best. She is reliable and honest and very very helpful. I have referred her many times 5 Stars for sure" "
- Robin Hicks
" Olivia is fantastic to work with and incredibly knowledgeable. Always on top of the deal, involved, and her commitment to her clients is unparalleled. "
- Tristan B.
" Sara was wonderful to work with when we were selling our home! She set up a timeline for us to be sure we would have enough time to sell, buy, and transition our kids into new schools just in time! She also helped to set us up with a great agent for the new area in which we were looking to purchase our new home! I highly recommend working with Sara!! "
- Meredith Dedinas Google
" My husband and I were first time home buyers and we couldn't have had a better experience with Kristen on our side! She was on top of everything and always one step ahead. If you're looking for a real estate agent, look no further! Highly recommend! "
- Caitlyn Woodard
" "I can highly recommend Hometown Realtors after having worked with April Cover. She is very knowledgeable and is very easy to work with. A+++++" "
- Hank Mason
" I would absolutely recommend Hometown as your go to Realtor. Sara Lyman and her team did a great job guiding us through the selling process as well as being diligent in helping secure our new home! Great job and very invested in your success. "
- Ryan Dufour Seller & Buyer Google
" Positive: Professionalism, Quality, Responsiveness, Value Sara was very responsive to our needs. She made our home selling experience as stress free as possible. We enthusiastically recommend her to anyone looking for a knowledgeable trustworthy real estate agent. "
- Kurt & Sue Enko Sellers Orange Ma
" As a first time home seller, I was nervous. I was so lucky to have gotten in touch with Olivia. Not only was she professional, responsive and knowledgeable, she helped me navigate through the process and calmed my nerves and always made me feel at ease. She was always there to answer any question, went above and beyond to help me get repairs fixed, and always had the sweetest and more kind attitude. Truly a valued asset of the North Quabbin Community. I'll recommend her to anyone, every time! "
- Amanda P.
" Debora Bousquet 3 days ago★★★★★ We had the privilege of having Kara Labonte as our buyer's agent when we were ready to purchase our home. She knows her stuff. The house we selected was being renovated on our visits. At first, it wasn't complete enough to make an offer. Kara showed us some other homes in the area. Not a single one felt right. We visited the first house again and decided to make an offer. Kara handled everything. Some things were complicated, however she breezed right through and knew what to do. She got the right guy for home inspection, he was thorough. There were delays with the sellers, but Kara was very encouraging and kept us up to date. She has the patience and knowledge to see the job through. When it came time to purchase and sign, it all went so smooth. Again, Kara had the right guy for the job! We are very happy in our home and we would recommend Kara Labonte as your realtor. Thanks again Kara!!! "
- Deb Bousquet
" We had the pleasure to work with Sara at Hometown Realtors. She managed the purchase and sale of both our personal and commercial properties. Then she sold a vacant land parcel for us and our 2 - family property. Each transaction with her is seamless and all have been consistent with excellent communication and professionalism. Her way of doing business is very professional, prompt and informative. She is a very thorough and experienced realtor. Highly recommended!! "
- Sarah Ares Google
" FCCMP- Rachel Berggren 3 hours ago★★★★★ Kara is a great realtor. She is responsive, has relationships in the community and is willing to work with you to find what you need. We really appreciated working with her. "
- Rachel Berggren
" Olivia was fantastic to work with! She was very flexible with all of our meetings, accommodating my needs of when/where to meet. She was clear and straightforward with the process and plan to list my house and accommodated my tight timeline for when to schedule showings. The photographer she works with took fantastic shots and the listing description was perfect! It's no wonder that within 24 hours of the first showing, we had 5 offers on the house! From start to finish (and throughout hoops and snags on my buyers' part) Olivia was positive, helpful and responsive. I never felt like I was out of the loop, in the dark or like an outsider on the team. Definitely recommend! "
- Jasmine S.
" Kristen was an awesome realtor right from the beginning when she first entered our home. She greeted us so professionally and also started explaining the selling process with us. I do recommend everyone to join the Hometown team And have Mrs. Dodge help sell your home!!! "
- David Thompson
" "My fiancé and I were looking to sell our home and we met with a couple of different real Estate Agents. April Cover came in with the highest list price and a great deal of confidence, so naturally, we decided to go with her. I am so glad that we did. Our home sold within a couple of days at her suggested list price, which was 38k more than we were originally told it would sell for! April also helped us purchase our new home. Our transition from one home to the other was seamless thanks to April. She was able to coordinate back-to-back closings for us. I would highly recommend her to anyone looking to buy or sell a home." "
- Miranda Habalou
" sgtboutell 3 days ago★★★★★ Kara was awesome from our day one looking to even a year later after buying when she remembered us and we got a card from her. We even made the lady work on Sundays and she was a trooper! If we sell again/buy she's our lady! "
- Scott Boutell
" Olivia was amazing throughout our entire process. She worked within our budget and helped us find our family home very quickly. I highly recommend Olivia as a buyer's agent...She was fantastic! "
- James S.
" ""April Cover helped my daughter sell her first home and find her new one - She is very personable and knowledgeable in all aspects of buying & selling and went above and beyond helping in any way she could - I was very greatful for April as I live in New York and could not be there personally for things - April was - I highly recommend her" "
- Kimberly Smith Hayes
Previous
Next